The Beginning of the Journey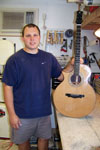 In 1993 I built my first guitar in California. I began by wanting to repair a badly damaged classical guitar that had fallen victim to a passing car. Since that time I have specialized in steel string guitars and have been committed to perfecting my instruments in every way. I now pursue this passion in the beautiful city of Gold Hill, Oregon.
Since 1993 , I have developed a process to create the highest quality instruments that are uniquely designed for the players they are built for. From custom voicing of the soundboard, to carefully chosen woods, to unique visual enhancements, every guitar I build is made to be a perfect fit for it's owner.
More Than Just a Great Guitar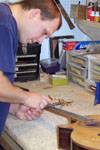 I believe that purchasing a custom handmade guitar is not just an investment, but it is an experience that creates a special bond between the player and the instrument.
Creating guitars that are a perfect match for the musician is the goal of each custom instrument that I make. Careful attention to detail and excellence of craftmenship sets Knight Guitars apart. Knight guitars are now being played and "experienced" by musicians across the United States.
Your Knight Guitar is Waiting for you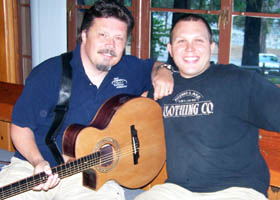 I love to build fine hand-crafted guitars for players of all types: performers, recording artists, worship leaders, collectors, and living room musicians.
Join the growing number of musicians who have experienced a custom hand-crafted Knight guitar to get the perfect sound, look, and feel that you have always wanted.
Please contact me for more information on how you can have a Knight guitar custom made for you.